Click here for a video about collecting your samples
SHL - Blood Sample from Preventx on Vimeo.
Tips
To help blood flow, take a hot shower or bath just before you collect your sample.
Stay standing, with your hand below your waist and your arm straight.
The safety needle isn't painful, but if you're nervous, you could ask someone to help.
1. Wash your hands with warm water then unpack the kit on a clean surface.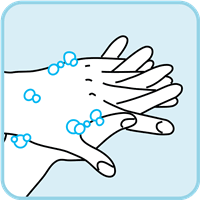 2. Use the alcohol wipe to clean one of your middle fingers, and let it dry.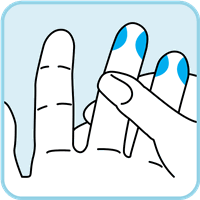 3. Twist the tip of the safety needle to break the seal, and remove the cap.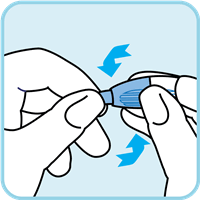 4. Place the safety needle on the finger, and push firmly to activate. The needle activates once.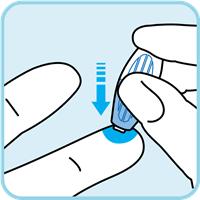 5. Wipe away the first drop of blood with a clean, dry tissue.
6. Gently massage the finger from the base to the tip (using a milking motion) to allow drops to fall into the tube.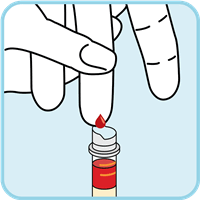 7. Fill the tube to the upper line on the side (marked 600). We may not be able to test samples below the 400 line.
8. If you are unable to collect enough blood, we've included spare needles, so try another finger (or 2).
9. Apply a plaster to your finger, then tightly press the cap onto the tube. Please wipe any blood from the outside of the tube.
10. Gently turn the tube upside down 5 times and then place into the transport pack.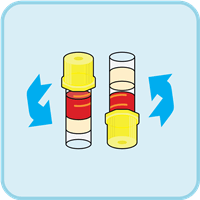 If you are asymptomatic (have no symptoms), live in the Dorset area and haven't previously been diagnosed with HIV or Syphilis, you can get an online sexually transmitted infection (STI) screening pack delivered to your home. Click on the relevant box below, and answer a few questions to see if you are eligible to receive a postal screening pack.
Alternatively if you prefer to come into clinic for a screen, please call 0300 303 1948
Tests:
Our STI screening kits are for people without any symptoms, those with symptoms should come into clinic.
The kits do not  test  for NSU (non-specific urethritis) or Trichomonas - these cause symptoms and an examination is needed to test for these.
The kit does not test for PID (pelvic inflammatory disease), epididymitis (infection in the testicles) or genital warts;  these cause symptoms and an examination is required to diagnose these.
The kit does not test for herpes - this is diagnosed by taking a swab from a genital ulcer. If you have any sores or ulcers, you need to attend a clinic. The kit does not test for hepatitis B and C. These may be done in the clinic following a risk assessment.
These home testing kits do not test for viral hepatitis. We are able to provide vaccinations to protect against hepatitis A, hepatitis B and HPV, free of charge for men who have sex with men. If you wish to be tested or vaccinated, you will need to attend an appropriate clinic – phone 0300 303 1948 for an appointment
Window periods:
The "window period" is the time between being infected with an STI and the test becoming positive.  If you test before this, it may be too soon to show up and the results will not be meaningful:
Chlamydia and gonorrhoea: 2 weeks after exposure
HIV: 4 weeks after exposure
Syphilis, hepatitis B and C: 12 weeks after exposure (but often positive earlier)
Please note: Although we send this package out in a discreet envelope to the address given, we cannot guarantee it not being opened by a third party and cannot be held responsible for any issues that may arise from this.
Your test kit will include:
instructions on how to use your STI screening pack,
Your test kit: contents will depend on the answers you give, we will send out the most appropriate test kit for you,
a sealable bag for your specimens
a Freepost envelope to use to return your completed test.
We will contact you with your results by letter, phone, text or email. We aim to contact you with your result no more than two weeks after you have taken the test. We will not contact anyone else with your result unless you wish us to.
If you have not received your results within 10 working days, contact the local screening team on 0300 303 1948 and chose option 4
If you have any queries or would like more information on the National Chlamydia Screening Programme please call the national sexual health helpline free on 0300 123 7123.
Or
If you would like to speak to the local screening team, please phone 0300 303 1948 and chose option 4.